WIP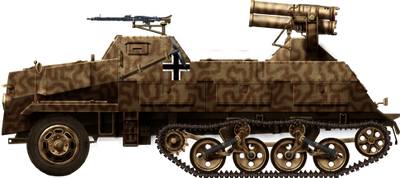 Survivors
Edit
Sd.Kfz.4/1 registration WH-174152, Patriot Park, Russia. Previously at Kubinka; when this half-track was moved to the new 1943 Hall at Patriot Park its liscense plate was changed from WH 1408826 to WH-174152. The rocket tube on the far left, lower layer of the rack is damaged but the vehicle is otherise in good condition.
Sd.Kfz.4/1 registration WH-1409056, National Military History Center, Auburn, Indiana. Chassis is original, hull is likely a reproduction. Sold at auction in December 2012. Current location unknown.
Sd.Kfz.4/1, Musée des Blindés, Saumur, France. Very good condition, running. This half-track sometimes takes part in Saumur's carousel displays.
Statistics
Edit
Number Built: 296
Hull Armor:
Turret Armor:
Weight: 
Suspension Type:
Engine: 
Top speed: 
Primary Weapon:
Secondary Weapon: 
Radio:
Crew: 
Technical Data
Edit
Length (Including Gun): 
Hull Length: 
Total Width: 
Total Height: 
Ground Clearance: 
Track Width: 
Ground Pressure: 
Transmission: 
Speed, Road: 
Speed, Cross-Country: 
Range, Road: 
Range, Cross-Country: 
Gradeability: 
Side-Slope Performance: 
Trench Crossing Ability: 
Wall Climbing Ability: 
Fording Depth: